C.D. Reviews
Jimmy McGriff -
The Dream Team compact disc
Milestone Records (MCD-9268-2)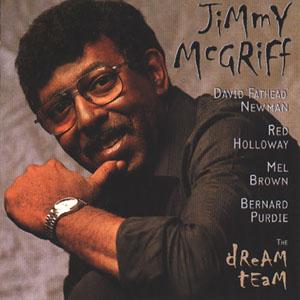 As the title indicates, this compact disc finds Hammond B-3 organist Jimmy McGriff in good company, which includes tenor saxophonist (and former Ray Charles sideman) David "Fathead" Newman, tenor/alto saxophonist Red Holloway, guitarist Mel Brown, and drummer Bernard Purdie. McGriff has received very high praise as "the finest blues soloist among organists" in the All Music Guide to Jazz.
McGriff is a major proponent of what some critics have termed "soul-jazz," a bebop-derived style influenced by rhythm & blues and gospel, and which developed during the late 1950s and early 60s. The advent of soul-jazz brought with it the more widespread use of the Hammond B-3 organ in jazz, beginning with musicians such as Jimmy Smith and McGriff himself.
Just as soul-jazz represents a melding of styles, McGriff touches on a number of musical bases here. The Newman-penned opening track, "McGriffin'," rides on top of a funky, at times parade-like rhythm. The second track, Willie Nelson's "Ain't It Funny How Time Slips Away," places McGriff with Elvis, Tina Turner, and Al Green among the many who have covered the tune. Elsewhere on the disc, "Fleetwood Stroll," with its catchy call-and-response riffs and slow-but-funky beat, brings to mind The Meters, another B-3 outfit. "'Tain't Nobody's Bizness If I Do" is both bluesy and gospel-like, and features a particularly nice solo from Newman. Of course, the entire disc is jazzy throughout, but "Red Hot 'n' New," "Don't Blame Me," and "Things Ain't What They Used To Be" are more straightforwardly so.