C.D. Reviews
TROUBLE FUNK -
Early Singles compact disc
Infinite Zero / American Recordings (9362-43095-2)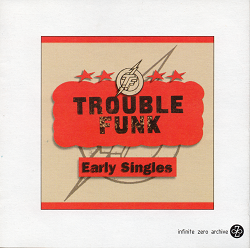 Early Singles is the latest CD from American Recordings to feature classic tracks by Trouble Funk, the champs of D.C. go-go music. Go-go has evolved concurrently with rap music, with the main difference being that go-go utilizes a full band, while rap usually does not. Inexplicably, go-go has never taken off like rap has, with the exception of the band E.U. (whose "Da Butt" hit big in 1988).
Along with Live (see review), which American Recordings released just a few months ago, Early Singles makes a lot of Trouble Funk's material available to many non-D.C. listeners for the first time. Except for a British re-issue of the album Drop the Bomb (Sequel Records NEB CD 663), Early Singles and Live are the only T-Funk titles currently available on compact disc. (Trouble Over Here, Trouble Over There [Island 7 90608-2] made it to the then-new CD format in 1987, but appears to be out-of-print now).
This collection of T-Funk singles leads off with "Supergrit," which is also included on the Drop the Bomb import CD. The song opens with a few bars from "Jericho," showing T-Funk's practice of quoting other songs to humorous effect. "Supergrit" is followed by "E-Flat Boogie", which, being an instrumental, is a bit unusual for Trouble Funk (perhaps it was a dub mix). These first two songs, while featuring the infectious T-Funk groove, demonstrate how Early Singles contrasts somewhat with the more skeletal selections on Live and Drop the Bomb.
Perhaps the difference lies in the fact that Live, and much of Drop the Bomb, are culled from concert recordings, in which the band engages in call-and-response vocals with the audience, and, as with James Brown, the instruments mainly punctuate the beat, rather than emphasize the tune. The tracks on Early Singles, on the other hand, tend to downplay the vocals in favor of (slightly) more melody. Personally, I prefer the more spartan (yet more polyrhythmic) live arrangements -- I'm not quite sure the singles add enough melody to justify a decrease of anything else. But make no mistake, this is a fun and funky disc, true to T-Funk's form. "So Early in the Morning," in particular, is a spirited party-in-your-ears.
As with all Trouble Funk, Early Singles is recommended for anyone who enjoys a good, energetic groove. It should be of particular interest to T-Funk fans such as myself, who are familiar with the band's other two CDs, but may have had no idea that this additional material existed (although there are still several albums which remain out-of-print!). Some crackles and pops throughout Early Singles indicate that it may have been mastered directly from the vinyl singles themselves, which immediately alerts the listener to just how much rarer the actual master recordings must be!
Update, March 2004: As of this writing, both Early Singles and Live have been re-issued as a double-CD package.