C.D. Reviews
MILES DAVIS -
Get Up With It double compact disc
Coline Records / Line Music GmbH (CLCD 9.21155 S) (Germany)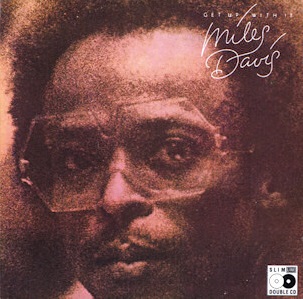 With a 1974 release date, Get Up With It isn't exactly new, or even recent. But lately, I've seen quite a few foreign C.D. re-issues of this in the stores, so I thought a review might be timely anyway.
Dedicated to Duke Ellington (at that point, just recently deceased), Get Up With It continues Miles Davis' experimental forays into (then new) fusion, which he had helped lay the groundwork for on his albums In a Silent Way and Bitches Brew. Judging from his autobiography, much of the material which constitutes Get Up With It (along with some of his other 1970s work) dates back to the same recording sessions as those two albums. Yet the tone on Get Up With It is quite different: perhaps Miles or producer Teo Macero wished to emphasize the electronic aspect of this new music. The tone sounds as though it were electrically charged, almost on the verge of crackling, and the result is a more raw sound.
Miles plays organ on most of Get Up With It (and piano on one track), and doesn't play trumpet at all on three of the eight tunes. (Since Miles' work from the 1970s doesn't get quite as much attention as his other material, some listeners may be surprised to learn that he plays keyboards on many records from that era). His organ-playing is rather harsh and (at least seemingly) dissonant, laying out high, noisy drones which float above the rest of the music. Fans of John Cale's organ-playing on the Velvet Underground's "Sister Ray" might very well be interested.
My personal favorite track here is "Rated X," which I had read about for several years before finally finding a copy of Get Up With It. On this song, Miles really lays into the keyboard, barely keeping it on this side of banshee-shrieking. Underneath this, a very dense rhythm section churns out a very (and yet oddly) danceable beat that sounds quite contemporary even today (but then, so much seems to come full circle, anyway). Every so often the rhythm stops, leaving nothing but the incredible organ-howl, then cranks up again. "Rated X" brings to mind the tape-splice crazy-quilt funk of Miles' earlier On the Corner, but may be even more over-the-top than that.
Another highlight is "He Loved Him Madly," which Brian Eno cites as one of his prime influences in the liner notes to Ambient 4: On Land. The track has a wide stereo-spread, and is spare, yet atmospheric --- even pretty psychedelic --- but I'm sure some purists wouldn't even consider this jazz at all (one source I've read even claims that In a Silent Way was Miles' last album of interest to jazz fans!)."Calypso Frelimo" features a bouncy riff that suggests a carnival, a bit like "Theme from a Symphony" by Ornette Coleman.
Get Up With It is a seriously overlooked album, evidenced by the fact that it still [as of spring 1996 -ed.] isn't available domestically (one of a handful that still hasn't been re-released since Miles' death over four years ago). As I mentioned at first, there are imported copies of this: a Japanese pressing may cost you up to fifty dollars; I was fortunate enough to find a German copy (a double-C.D. in a single-size case) for a "mere" twenty-eight bucks.